Toilet Breakfast out of the Blender - Sex With MissMortelle (2022) [FullHD 1920x1080 / MPEG-4]
доп поле скриншотов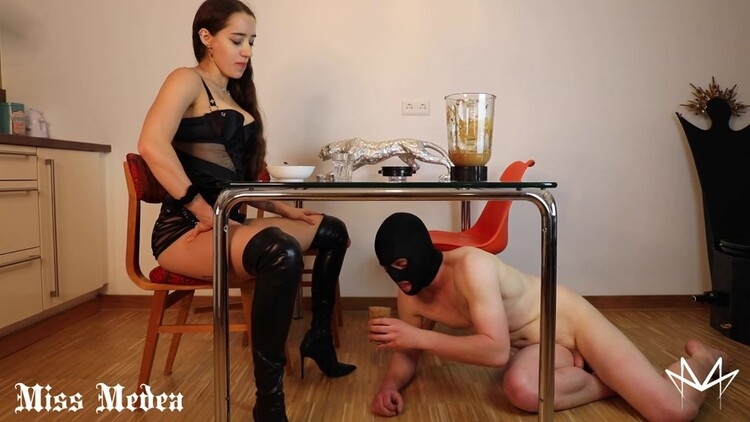 Cast:
MissMortelle
Name Video:
Toilet Breakfast out of the Blender
Year Video:
2022
My slave can consider himself lucky that I have once again invited him to a perverted breakfast.
As a basis for his divine smoothie, I will piss into the blender. Then I turn around so that you can watch how my sexy shit plops out of my asshole and lands in the collected piss. Last but not least, I wipe my ass and throw the toilet paper into the mixer too.
Time to mix the whole thing! By the way, eating a mixture of shit an pee is way more difficult than eating shit alone. This is due to the higher volume of shit liquid and because every single sip of it will have the same, strong shitty taste!
I pour my human toilet a portion of the liquid pee and shit mixture into a glass and demand that he drinks it! While my dirty pig struggles with drinking my shit under the table, I enjoy my delicious breakfast. When he has drunk the first glass, I start to pour the shit directly into his mouth. Then a disaster happens. See for yourself how this perverted toilet education continues!
Clip Language is German.
Mein Sklave kann sich glücklich schätzen, dass ich ihn wieder einmal zu einem perversen Frühstück eingeladen habe.
Als Basis für seinen göttliche Smoothie, pisse ich in den Mixer. Dann drehe mich um und verrichte mein großes Geschäft so dass ihr zusehen könnt wie die geile Scheiße aus meinem Arschloch ploppt und in der gesammelten Pisse im Mixer landet. Zu guter letzt wische ich mir noch den Arsch ab und schmeiße das Klopapier hinterher.
Zeit das Ganze durchzumixen! Wusstest du, dass es viel schwieriger einen Mix aus Kaviar und Natursekt zu schlucken, als Scheiße alleine?. Das liegt daran, dass das Volumen viel größer ist und doch jeder einzelne Schluck von dem starken Kackegeschmack durchzogen ist!
Ich gieße meiner Klosau eine Portion der flüssigen Scheißesuppe in ein Glas und befehle ihm, leerzutrinken! Während mein Sklave sich unter dem Tisch mit meinem Drink abmüht, genieße ich mein leckeres Frühstück am Tisch. Als er das erste Glas leergetrunken hat, beginne ich ihm die Schokomilch direkt in den Mund zu kippen. Dann passiert ein Unglück. Sieh dir selber an, wie diese perverse Kloerziehung weitergeht!
Info File:
Time:
00:15:33
Quality:
FullHD
Format:
MPEG-4
Size File:
1.11 GB
Download Scat: Toilet Breakfast out of the Blender - Sex With MissMortelle (2022) [FullHD 1920x1080 / MPEG-4]
Genres:
scatting domination, femdom scat, shitting, toilet slavery, defecation, scat swallow, shitting porn, poop smear, scat porn
Related Videos: