Wide Shitty Gaping/Asshole Teasing/Huge Turd - Open Your Mouth Like A Good Boy - Sex With MissAnja (2020) [FullHD 1920x1080 / MPEG-4]
доп поле скриншотов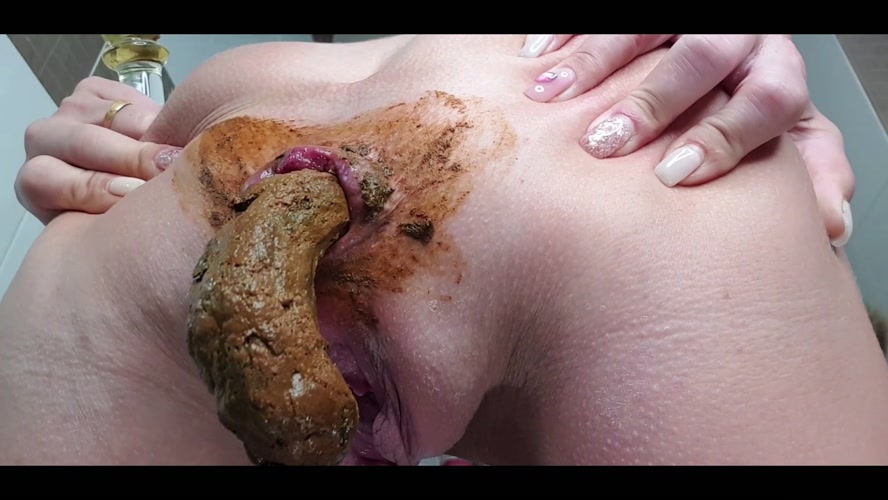 Cast:
MissAnja
Name Video:
Wide Shitty Gaping/Asshole Teasing/Huge Turd - Open Your Mouth Like A Good Boy
Year Video:
2020
Are you hungry again? Here's something for your hungry mouth. Your fave Goddess here again. You'll get reward from me but I wanna get something for return. I wear only a glitter VS bikini top no undies at all. Spread my legs flashing and touching my lovely pussy so very close to your face. First part of the video filmed in POV. You wanna swallow something from me right? Something what's I have only.
You're here just because of me. Do you wanna taste my pretty holes like a good SLAVE? Lick my pussy right now!!! Stick your tongue and lick my kitty. It's just so tasty good for appetizer. I slap my pussy and you lick like a fcking good slave. Your Goddess drive you crazy.
Afterwards I stick one of my finger to my asshole to prepare for a glass toy later. Are you hard just because of thinking of my stinky shit?
Do you want me shitting on you? Shitting on your face right now? Then you take it all like a very good boy. Stick your tongue and I'll feed you. You're always hungry just like now. Your purpose is getting all of my nasty poo right? I penetrate a glass toy into my tight asshole, playing anal and make it so very dirty while talking even more dirty to you. I instruct you to open your mouth because your meal is coming. This part isn't filmed in POV. I squat close to cam and pushing out a sticky stinky shit for you. And you just like a patience good SLAVE take it all. I gave you my yellow as well. I get back to play with glass toy and make it even more swollen my ass for you. I direct you to clean off my shitty hole. Clean off all my chocolate around my hole. That's your job. So do it for me! I'll know when it's time to feed you next time no worries. Just open your mouth to your fave ass. Have fun
Description: I'm fully naked. My plan and purpose today to show you my gaping asshole as much as I can. You will not resisting this dirty hole. You can't resist at all. I seduce you by showing naked petite body touching my tits and pussy then turn to doggy to reveal my pretty ass. Touching my asshole spit on it then take my dildo to start stretching nice and slow. View is just perfect and crystal clear to gaping bum hole. Sight is close up all over in the video. I penetrate the dildo pretty slow and my ass gaping by itself. It's a big cave with lot's of shit inside. Dark and magical. My pussy juicy and creamy I bet you wanna taste while I gape my butt. Every time I push the dildo deep inside I feel my big shit inside that I push it even more down. I'm moaning because several times felt could shit myself right away but I was focusing on gaping and slow teasing. Dildo hits big shit and I can't wait to release them all. I gape it in doggy through in the vid and help by my hands to pull ass cheeks nice and wide. After long seduce I just place all my forth to right position and very close up view pushing out amazingly big and almost compact hard turd for you. Lot's of shit coming out of my ass with some noises. I also do prolapse and pushing hard as much as I Can. I could help on myself by hands and also spread creamy pussy for your eyes. I do prolapse several times and get back to dildo play but this time gaping my shitty hole and doing more prolapse. At the end I show off that huge poo on the floor. This video is all about very close up gaping inside shit, asshole teasing, anal fucking, prolapse and huge shit. Have fun
Info File:
Time:
00:34:35
Quality:
FullHD
Format:
MPEG-4
Size File:
2.46 GB
Download Scat: Wide Shitty Gaping/Asshole Teasing/Huge Turd - Open Your Mouth Like A Good Boy - Sex With MissAnja (2020) [FullHD 1920x1080 / MPEG-4]
Genres:
scat solo, scat, defecation, scatology, poop, shit, kaviar scat, pooping girls, shitting girls, shitting ass, scat girls, poop videos, amateurs scat, dirty anal, scat porn, MissAnja
Related Videos: